Media Alert!!!!! For Immediate Press Release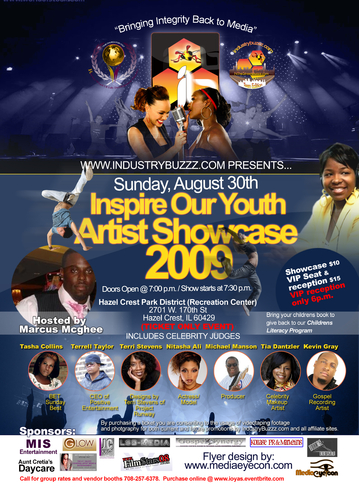 Posted By: Lutonya Lang on August 06, 2009

www.IndustryBuzzz.Com
Announces
Inspire Our Youth Artist Showcase 2009


For Immediate Press Release
Media & General Inquiries - contact Lutonya M. Lang
web: http://www.IndustryBuzzz.com |
email: connect@industryBuzzz.com
Phone: 708-257-6378



Chicago Based Inspirational Media Conglomerate Hosts Inspire Our Youth Artist Showcase 2009

South Holland, IL (March 3, 2009) - Inspirational based media outlet, IndustryBuzzz.com sets Sunday, August 30, 2009 as the target date for their first annual Inspire Our Youth Artist Showcase 2009. This Ticket Only Event will serve as an outlet to empower and inspire. This one night event Sunday, August 30, 2009 located at the Hazel Crest Park District (Recreational Center) 2701 W. 170th Street in Hazel Crest, IL 60429; VIP reception 6:00 p.m./Showcase Starts 7:30 p.m., will encourage, uplift, and serve as entertaining experience that the entire family can enjoy. Feature acts will include community youth and emerging independent artists from the metropolitan Chicago area as well as nationally. Contestants will compete for a chance to win a grand prize package and bragging rights as IndustryBuzzz.com's 2009 Showcase Winner! Various genres will be highlighted ranging from: Fashion, Comedy, R&B, Spoken Word, Dance, Rap, and Gospel and will be judged by our industry panel and audience. All acts must have an inspirational message.


During the VIP Reception at 6:00 p.m. there will be special guest appearances along with a networking social for participating artists, industry professionals, and media professionals prior to the showcase. The Judges for this awesome showcase are Tasha Collins of BET Sunday Best, Kevin Gray Urban Gospel Recording Artist, Terrell Taylor CEO of Positive Entertainment and Tia Nance-Dantzler Celebrity Makeup Artist to President Barack Obama as well as Jennifer Hudson. Designs are presented by Terri Stevens of Bravo's Project Runway with Heidi Klum.


Interested participants should submit their contact information, bio, picture, music mp3's, EPK's, or website link to Connect@IndustryBuzzz.com by Friday, August 7, 2009. On the same day Friday, August 7, 2009 promptly at 7:00 p.m. until 9:00 p.m. we will have an audition located at the Hazel Crest Park District (Craft Room) 2600 W. 171st Street in Hazel Crest, IL. Submission forms are found on www.IndustryBuzzz.com for all contestants.


The premise of this event is to inspire tomorrow's leaders, today's youth! Youth volunteer opportunities are available, contact: Connect@IndustryBuzzz.com




About Industry Buzzz.com:
Industry Buzzz.com endeavors in "Bringing Integrity Back to Media", One Story at a Time! Since its online debut, March 2008, it has now reached over 120,000 viewers (currently growing) and has since then, extended itself to a bi-weekly emagazine, IndustryBuzzz.com Entertainment and IndustryBuzzz.com Radio Show (airs every Thursday at 8:30pm CST on blog talk radio!) Our site is user friendly and family oriented. With online content that provides a diverse spectrum of topics and interests, Industry Buzzz.com always stays ahead of the curb and relevant in dealing with real issues along with being your source to artist news and entertainment.



"Sowing into our youth is sowing into the future of our communities. A planter plants a seed for the benefit that will come from the harvest. Sowing into our children will allow us to reach a bountiful harvest. If we don't show them how to use their talents to make a change in the Media today they will not have an example before them except for what is shown in Entertainment. This is the platform for us to make a difference One Child at a time," says Lutonya M. Lang, CEO of Industry Buzzz.com.



For bookings, media coverage, and radio interviews:

Contact: Lutonya M. Lang
Email: Connect@IndustryBuzzz.com
Web: http://www.industrybuzzz.com
"Bringing Integrity Back To Media!"




JOIN THE INSPIRATIONAL MOVEMENT!


All acts are welcome! Must have an inspirational Message

PURCHASE YOUR TICKET TODAY!!! CLICK HERE http://www.ioyas.eventbrite.com






If you enjoyed this article, Join HBCU CONNECT today for similar content and opportunities via email!