SO MUCH LOVE FOR YOU IN THE WHITE HOUSE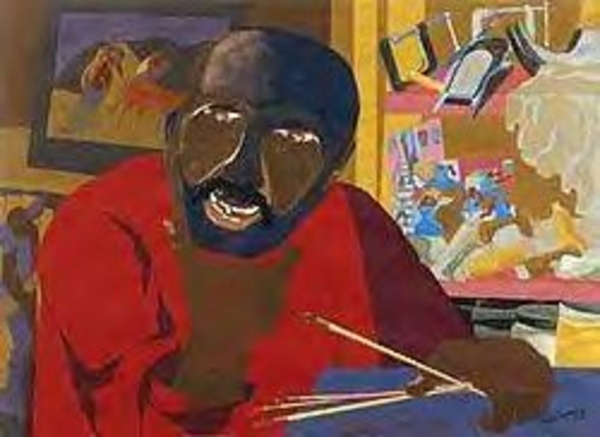 Posted By: agnes levine on December 16, 2009

Greetings My Artist Family,

It has been a while since I have been on this site and I send my love to friends and acquaintences new and old!

I am very full of spirit and joy and love for my fellow artists today and here's why. Yesterday (Tuesday) I had the privilege o f touring the Green Room at the White House. It was a special winter delight for the Holy-Day season that carried a special surprise and blessing for me.

As I toured the East Wing where the "Green Room" is situated, I learned that the White House has art work from an African-American artist. There are only two African-American artists' work in the White House which is how old again(?)....

But I digress because the nothing should be taken away from the fact that African-American Artist Jacob Lawrence is one of only two black artist blessed to have his work on display in the world-famous White House Green Room. I was further surprised that his work was selected and purchased at more than 2.5 million dolloars under the G. W. Bush Administration.





(Actually, the White House Historical Society made the purchase, but ...).

Anyway, two paintings by this artist hang in the Green Room and I must say that considering the other paintings of past presidents hangin in the Green Room and the "antique" Green Room decor, Mr.Jacob's colorful pieces stand out and add so much 'colour' to the Green Room.

The paintings chosen and purchased by the White House are: The Circus and The Builders by Mr.Jacob Lawrence. Of course, they are in abstract as is the signature of Mr.Lawrence with his Harlem coloring flair. I love history and I have to be honest and admit that I had to come home and do some research on Mr.Lawrence. The legacy he has left behind is awesome as I am sure many of you know already. If you need a refresher course, please take the time to read up about Mr.Lawrence or visit the Washington or New York Museums that feature most of his collections.

Ok, now the big questions of the day...do you ever dream of having your work displayed in prominent places such as the White House? Where would you want your work displayed and why? Can your work command 2.5 million dollars? And ... who is the other African-American artist who has work displayed in the White House?

I love each of you for your contribution to our culture and may you be blessed with good health and prosperity this Holy-Day season...

Passing the peace and love,
Evangelist Agnes B. Levine
Author of: "Cooling Well Water: A Collection of Work By An African-American Bipolar Woman" ISBN 13 978-0-9754612-0-4
Available www.amazon.com and www.bn.com
If you enjoyed this article, Join HBCU CONNECT today for similar content and opportunities via email!