HAmpton get mY Cousin David Legree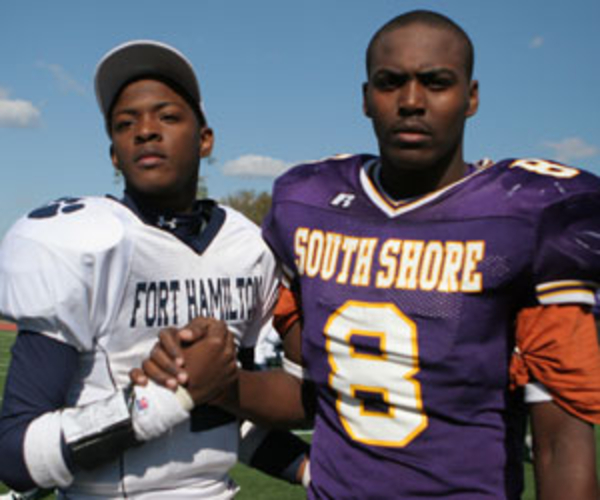 Posted By: Sharif Henry on August 30, 2009

Hampton to Gain Transfer QB
Hampton University's football coaches might want to consider sending some flowers to David Legree's cousins.

Legree, a 6-foot-5, 235-pound quarterback who left Syracuse earlier this month, plans to transfer to Hampton and play for the Pirates in 2009.

He first heard about the Football Championship Subdivision (formerly I-AA) school from three female relatives who are students at HU.

"They made me feel the right way about the school, so I gave the coach a call," Legree said by phone Wednesday. "I got real close with the coaches, and I felt like that's where I needed to be."

Legree didn't take a snap in two seasons at Syracuse after throwing for 1,115 yards and rushing for 458 more as a senior at South Shore High in Brooklyn, N.Y.

He also was recruited by Rutgers, Purdue and Toledo, but chose Syracuse in part because he felt like he'd have a chance to get on the field more quickly with the Orange.

Instead, he quit the team two days after first-year Syracuse coach Doug Marrone announced that redshirt freshman Ryan Nassib would be the Orange's starter and senior Cameron Dantley would be his backup.





"New coaches want new things," Legree said. "I don't want to say they were trying to get rid of the old players, but they want what they feel is going to lead them in the right direction. At that time I felt like I had been waiting around too long, and I wanted to make something happen."

Junior Herb Bynes is the Pirates' incumbent starter after throwing for 2,713 yards and 19 touchdowns last season.

"Competition is good," Bynes said Wednesday. "You get the chance to push yourself and just be prepared."

That said, Legree won't be handed Hampton's QB job.

"It's mine until I give it up," Bynes said.

Legree will finish the academic semester at Syracuse and hopes to enroll at Hampton by fall, if not summer. He wasn't dissuaded by the fact that **** Rose, a longtime HU assistant promoted to head coach after Jerry Holmes was abruptly dismissed in January after one year, is the Pirates' third head coach in as many seasons.

"It's just new," Legree said. "New could be good or bad. It could be that spark that you're looking for, or it could be that long process that most people don't want. For me, I feel like (the new HU coaches) bring a spark, and I feel like I could also bring a spark."

Melinda Waldrop
If you enjoyed this article, Join HBCU CONNECT today for similar content and opportunities via email!