FVSU hazing details emerge; more charges could be filed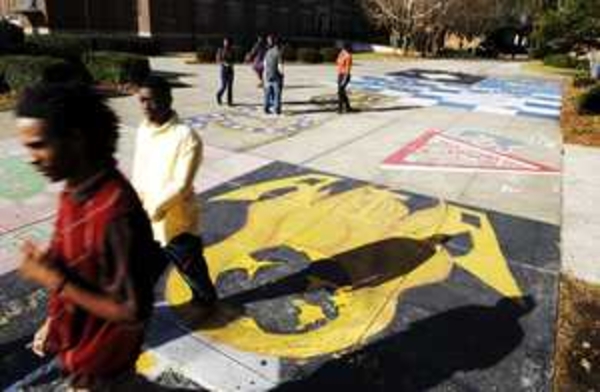 Posted By: Reggie Culpepper on December 10, 2009

FORT VALLEY — Authorities say Fort Valley State University student Brian Tukes sent a text to his mother Nov. 30 saying he had been throwing up. She met him at the Houston Medical Center emergency room after he began complaining of chills and back pain.

The narrative on a Fort Valley Police Department incident report details the beginning of what has touched off an investigation into fraternity hazing at the historically black college. Tukes, 19, is hospitalized in Macon. A member of Alpha Phi Alpha Fraternity Inc., 21-year-old Bryson Trumaine Amey, of Fort Valley, is facing a felony aggravated battery charge.



Police officials say they are interviewing other members of the fraternity's FVSU chapter to determine the full circumstances surrounding the incident.

Tukes, a 2008 graduate of Westside High School in Macon, was diagnosed with acute renal failure and admitted to the Houston Medical Center. At some point in the last week, he was taken to The Medical Center of Central Georgia in Macon, where officials said he was in stable condition Wednesday.

The incident report mentions that the suspect or suspects apparently used their hands, fists or other body parts to physically **** Tukes at the Alpha Phi Alpha fraternity house at 603 Carver Drive. Information on the incident report for 14 people listed as witnesses was redacted from the report.

Fort Valley police Capt. Lawrence Spurgeon said Tukes' mother, Phyllis Tukes, informed university officials of her son's allegations Friday. They alerted the Fort Valley Police Department, which is handling the investigation. The department will hand its findings over to Peach County District Attorney Cliff Woody, who will then determine whether other charges will be filed.

University, fraternity reaction

University officials, meanwhile, have issued a cease-and-desist order for the 15 active members of the fraternity not to participate in campus activities pending the results of the investigation. They, along with officials from the fraternity's regional office, will decide if action will be taken against the chapter, which could range from a reprimand to lifting the chapter's charter.

Canter Brown, executive vice president and chief legal officer at Fort Valley State University, said its Office of Student Affairs is working with Alpha Phi Alpha's regional office to review the campus's fraternity chapter and will release a report of their findings.

"Our university does not tolerate hazing," Brown said. "We are going to take whatever action necessary to make sure this doesn't happen again at Fort Valley State or any organization by Fort Valley State."

While representatives of Alpha Phi Alpha on both the regional and national levels did not return calls seeking comment, the fraternity's general president, Herman "Skip" Mason Jr., addressed the incident in a statement issued Tuesday.

"We see acts of hazing not only as actions against the individuals who may be victimized, but as actions against Alpha Phi Alpha Fraternity, Inc.," he said. "With every legal means possible — both civil and criminal — we will defend our interests, our organization's name and reputation and our members against anyone who commits heinous acts against our fraternity."

Spurgeon said the recent allegations are the first claims in more than four years involving criminal hazing at the university.





The last reported hazing incident involving Fort Valley State students happened in 2005, said Brian Byrd, program coordinator for campus life, when a student was injured while drinking at an off-campus Kappa Alpha Psi Fraternity event.

The incident was reported to campus police, and the fraternity was subsequently suspended for three years. The Fort Valley Police Department was not involved with that case, Byrd said.

Around campus

News of the hazing allegations hadn't reached the entire campus by Wednesday afternoon. Some said they were shocked by the incident. Others were surprised the news was generating so much buzz.

"You know going in that you're going to get a little bit of hazing," said Terry Smith, 21, a junior accounting student from Atlanta. "That's part of it."

Miecha Baker, 18, a freshman music major from Cartersville, said she feels the act of hazing contradicts the purpose of a fraternity. "I just think it's wrong," she said. "You shouldn't be punished for something you want to join, especially a sisterhood or a brotherhood."

Adrianna Marzette, walking with her friends on the campus, said she didn't understand how or why the initiation process could have escalated to the point that someone would be hospitalized.

"I know you're supposed to make sure the person wants it bad," she said. "But if it's going to hurt ... don't do it. Hazing is just another form of hatred."

Among the fraternities

On Wednesday afternoon, members of the Omega Psi Phi Fraternity Inc., discussed the incident outside their frat house on Carver Drive, next door to the Alpha Phi Alpha house.

While some agreed the incident could cast a shadow over the intake process for all Greek letter organizations, others said it wasn't surprising that hazing was taking place.

"Frats have a small history of hazing. It's not surprising," said 21-year-old Andre Turner, a senior biology student from Atlanta.

Turner wouldn't go into detail on hazing practices. Others said they wondered how the allegations would affect organizations outside of Alpha Phi Alpha.

"We're more concerned that they're going to cancel all Greek organizations," said Michael Wilson, 23, a 2008 graduate of Fort Valley State who lives in Warner Robins.

"It makes all us Greeks look bad," said Darnell Davis, 21, a junior mathematics student from Fort Valley. "If it happens in one, you can't charge it to us all."

Spurgeon said the police would only be brought in if potential pledges of a fraternity or sorority were subjected to activity likely to endanger their physical health, regardless of their willingness to participate. He cited excessive running, food deprivation and events that could lead to dehydration among the events that could lead to police intervention.

"Most students do not have a good sense of history of how (initiations) are supposed to play out," he said, "and how this can spiral out of control from something silly ... to something that can mar your criminal record."

The hazing law in Georgia specifically counts all facilitators as being responsible for the act, no matter whether they take part. Spurgeon said the rites of passage into a fraternity or sorority are normally a celebrated occasion.

"The purpose of you being in school is to get an education," Spurgeon said. "The last thing you want to do is take something that's supposed to be a brotherhood ... and turn it into an **** incident. When taken out of context, this is what happens.

"That would open the door for us to become involved in the investigation."
If you enjoyed this article, Join HBCU CONNECT today for similar content and opportunities via email!